Learn how to use your machine to make garments, bags, soft furnishings and items for the family and friends. Workshops are designed to enable you to take home a finished item. All the help and advice is at hand to guide you through many different and sometimes difficult aspects of sewing.
All materials needed for the workshops are available in cut packs for approximately £6.00. Workshop include - Carry-All-Bag, Child appliquéd sweatshirt, Italian Quilted Cushion and Zip fastening, Flanged Piping Cushion with zips, Heirloom Chenille-by-the-Inch Cushion with a zip, Chenille Waistcoat, Fully lined (no hand sewing) Waistcoat, Christmas and/or Easter Table Linen, Red Work/Black work Napkins x 4 plus and Trupunto.

Fantasy Embroidery Beaded Bag
You can make this beautiful bag with any basic sewing machine. Work with a selection of materials, threads and experiment with all types of machine decorative work using presser feet and free machine sewing with and without a hoop. We will show you a variety of techniques to create unique, quick and effective embroidered textile work and make into a handy purse bag.

Holiday purse/bag day
Construct a small "over the shoulder" bag which will unfold to reveal your travel needs. Small enough to wear at all times but roomy enough to keep your passport, papers, keys and money safe when travelling, or even shopping on the high street. A great gift idea.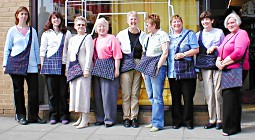 Sashiko Casual Bag
Sashiko is a very old beautiful art of machine stitching repetitive Japanese patterns on indigo fabric. Traditionally stitched by hand, but cleverly translated to machine we will embellish fabric and then make it up.
Jelly Roll Beach, Baby or Quilt Bag
An innovative technique constructed directly onto wadding to make into a clever bag for carrying all your items then opens out to make a soft seating area. Carries every-thing for beach, trips to the shops or classes, ideal as a changing bag for baby and perfect for transporting those quilts.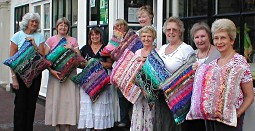 Batik Cushion/Pillow & Couching
A new and very easy PATCHWORK method that is fast and fun. Made with beautiful batik type fabric strips then embellish with either braiding and couching techniques or free-motion couching. Complete with an Oxford edge and zip fastening!